Trish King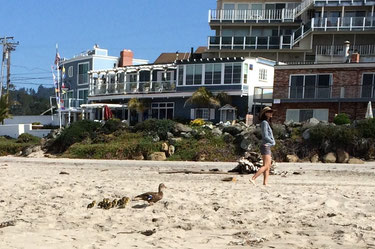 First, you need to understand where I'm coming from.  We recently moved from Marin County to Santa Cruz County.  We were both worried, because it didn't seem as dog friendly, and that's important to us.  In Marin, dogs are allowed off leash in many areas.  Actually, it seems that most Marinites believe it is their right to have their dogs off leash, as they do it even when "dogs on leash" signs are clearly posted.  At any rate, in official Open Space areas, you can have as many as three dogs off leash (dog walkers can walk six dogs – three on leash and three off).  As you can imagine, we think of this as one of the major perks of living in this beautiful county. 
Well, come to find out, Santa Cruz County is equally beautiful, if not quite as dog tolerant.   On most beaches, dogs are only allowed if they are on leash.  On some beaches, they are not allowed at all.   If you want to romp with your dog off leash, there are a couple of places, but mostly you need to head south, to Monterey and Carmel.   In most park areas, dogs again are on-leash only.  Forget the long, rambling walks with the dogs exploring ahead and behind.  It just doesn't happen.  (Actually, that's not quite true.  As with any other law, there are people who don't obey it, and who let their dogs run free). 
Much to my surprise, the leash law has led to greater freedom for our canine family.  You see, we have three dogs.  Two of them are super off-leash dogs.  Aspen and Boo like other dogs, but aren't so interested as to become problematic.  They have good recalls, and tend to stay fairly close to us.   Luke, on the other hand, is not a good off leash dog.  He is splendid on leash, with great manners and attention towards us.  He has learned to pass other dogs as though they don't even exist.  Off leash, however, he tends towards bully behavior.  Instead of greeting other dogs politely, he is more likely to crash into them, just to see what happens.  And what happens isn't going to be pretty. 
In Marin, we would take walks separately – Aspen and Boo together on off-leash trails, Luke on city streets.  Occasionally, we'd walk trails with him during off-hours, but we would always have to keep an eagle eye out for approaching dogs ("my dog is friendly!" they'd shout. "He's not!"  we'd shout back).  Although they are supposed to be under control, it's my experience that most dogs just do what they want in the moment, and don't listen to their owners unless it's convenient.   The whole thing made for highly tense walks, and a huge sigh of relief when we arrived home, safe and sound. 
Now, for the first time in his life, Luke can walk on a beach with us.  We can enjoy the ocean and sand and watching life together, and we aren't terrified that another dog will get in his face, possibly causing an unwelcome incident.  Of course, there are a few people who don't think they have to obey the law, but by and large, we walk past other people with their dogs on leash, and say a cheerful hello.   Our stress level has dropped considerably and because of that, I think Luke's has too. 
There are other perks.  Yesterday, we saw a mother duck and her multiple ducklings.  If dogs had been allowed off leash, they wouldn't have been there.   A few days previous to that, we saw a wounded sea lion, waiting for rescue.  Most off leash dogs wouldn't have been able to resist that temptation. 
So, though I never thought I'd say it, leash laws aren't the worst things that could happen to our dogs.  Yes, in a perfect world, we wouldn't have to have our dogs on leashes.  But, in a perfect world, they would all come when they were called and they would only greet other people and dogs who wanted to meet them.  So I'm good with it.