---
Academy of Dog Behavior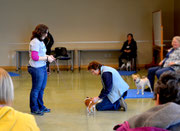 "Trish has an amazing way of sharing years of experience and knowledge on canine behavior; by serving as a translator of sorts between dog speak and human speak, her teachings are not only incredibly fun and entertaining, but have an enormous educational value that is helping bridge the gap between people and their dogs, improving relationships, quality of life and giving an insight into a wildly fascinating subject."
~Natalia Martinez
2011 Grad

---
Attention Dog Walkers!   The Academy of Dog Behavior is authorized by the Golden Gate National Recreation Area, the City of San Francisco and Marin County Open Space District for training in order to be licensed to walk dogs in those areas. 
---
Next Level I class is coming up!  Sunday afternoons 1 to 5 pm from September 11, 2016 to November 20th, 2016 with one skip date - October 16th.  To enroll, click here
Academy of Dog Behavior
Foundation Course in Behavior & Training
Teaching People, Teaching Dogs
Begin with Level 1, our fundamentals course. This is a 40-hour series that meets Sunday afternoons and is perfect for those with a busy schedule!
You will learn practical information delivered in a relaxed but engaging atmosphere. Classes include lecture, video, and demonstrations with dogs. Student's dogs are welcome to attend most classes. The syllabus includes the basics of:
Canine Ethology, Body Language and Social Structure 
•   Theories on the origin of the species and its progression to the variety of dog breeds of today. 
•   Body language and communication - how to interpret dog behavior and communicate as clearly as possible.   Discussion of the senses, capabilities and emotions of dogs.
•   The natural social structure of the dog, and how it can be used in the human/dog relationship.    
Safe handling and evaluation basics
•   Development of observational skills in order to predict canine behavior.  
•   Fundamental development of skills to maximize safety while handling dogs.  
•   Process of assessing dogs in order to maximize appropriate placement with potential owners
Learning theory 
•   Fundamentals of the various ways dogs learn, from social facilitation to the four quadrants.  
•   Begin the process of judging which learning process is appropriate in the modification process
•   Equipment usage, from collars to halters to harnesses, their efficacy and usefulness 
Training
•   Utilizing various methods of teaching basic skills to dogs and assessing the effectiveness of the methodologies – clicker training, modeling, luring, shaping
Solving Behavior Problems 
•   Development of practical strategies to solve a variety of behavior problems, utilizing management, relationship adjustment and training 
The cost is $850.00 for the class. A non-refundable deposit of $100.00 is required to reserve a spot.
Academy dates are September 11 - November 20, 2016 with one skip date -  10/16

Enroll now!   Click here:   Academy of Dog Behavior Enrollment
---
Advanced Courses
Intensive 12 Hour Behavior Modules
Join us in these stand-alone modules, which provide the ideal format for taking a "deep dive" into the topics of your choice.  With a maximum of 15 students per three week session, Level 3 modules create the perfect environment to refine and expand on skills you've gained through the Academy of Dog Behavior.
Intensive Modules:  Click here to get more information
Shelter Evaluations

Teaching Reactive Dog Classes
Working with Individual Clients and their Dogs (consultations)

Working with Reactive dogs
---
Certification Requirements
Certified Canine Behavior Specialist (CCBS)
Certification is granted by ADB and Humane Society Silicon Valley
Graduation from Level II or Completion of three modules

Passing grade in the final exam

Appropriate approved project with progress reports (written and electronic)   
---
---